Saturday, December 5, 2015
Join Alan Spencer to celebrate the 30th Hammerversary of Sledge Hammer! on January 17th, 2016 in San Francisco. Details at http://sfsketchfest2016.sched.org/event/4jDf
Saturday, October 30, 2010
The new forum has been launched! http://sledgehammer.46.forumer.com/. This one was a bit more difficult to set up than the last one. So, please be patient with any bugs that need working out.
Wedesday, October 20, 2010
The forum is deleted by accident by the host, wiping out discussion consisting of over 35,000 posts and 430+ members. RIP Sledge Forums 2004-2010. A new forum will arise!
Sunday, October 11, 2010
Sledgefest was a huge success and a sellout!
Saturday, May 1, 2010
Tickets are now available for sale for Sledgefest. Click the banner below to puchase.

Tuesday, April 6, 2010
Details to follow...

Wednesday, July 15, 2009
David Rasche talks about a new movie he's in, as well as an old series as the host only has eyes for Sledge.

David Rasche "In The Loop"
And, Enjoy as David Rasche leans to the left while skewering the right and also takes a request at the end:

David Rasche On ABC's "Top Line"

Monday, March 2, 2009
Patti Tippo, the actress who starred as Officer Daley for 14 episodes of Sledge Hammer! will be on The Official Sledge Hammer! Forums ( http://sledgehammer.tt.cx/ ) on Saturday, March 28th at 6PM Eastern Time (or 3PM Pacific Time) to answer your questions. She will be online for one hour.

Prizes will be awarded to two lucky winners who come online that day and post at least one question. Patti's autograph and the choice of any 3 items from the Sledge Hammer! online store, or Sledge Hammer! Seasons One and Two on DVD, or the DIRTY HARRY collection on DVD or Blu-Ray will be given away to one lucky fan who comes online and posts questions to Patti. The runner up pick from the random drawing will receive Patti's autograph.
In previous months Harrison Page (Captain Trunk) and Beverly Leech (Elizabeth Jenkins) visited the forums for online discussions.

Friday, November 7, 2008
Sign the Paley Center petition to pay tribute to Sledge Hammer!.
http://www.PetitionOnline.com/sledgePC/petition.html
The Paley Center for Media, with locations in New York and Los Angeles, leads the discussion about the cultural, creative, and social significance of television, radio, and emerging platforms for the professional community and media-interested public.
The Paley Center holds tributes where they ask the cast of various TV shows to visit the Paley Center and discuss the TV show. Clips of the TV show are shown.
To learn more about The Paley Center, visit http://www.paleycenter.org/
Saturday, August 16, 2008
Alan Spencer discovered and commented on this:
Sledge Is In The House
Just read Republican windbag Steve King was quoting my show in the House this week...
"You wonder why Putin's belligerent?" King asks. "When these dictators get oil-rich, they get belligerent on us." Because of America's dependence upon dictators' oil, he adds, "our freedoms are diminishing day by day."King says Pelosi's argument for tapping the Strategic Oil Reserve is akin to the catchphrase from "Sledge Hammer!": "Trust me—I know what I'm doing!"
I think I'll send King's website an email letting him know that Sledge was a joke, just like his term in office.
Alan
Thursday, August 7, 2008
Check out this blog from Entertainment Weekly.

http://popwatch.ew.com/popwatch/2008/08/david-rasche-sl.html

Alan Spencer's MySpace blog has the link and the following from Alan:

"Expect me to have another round of talks again..."
Monday, July 28, 2008

Harrison Page, the actor who played Captain Trunk on the hit show Sledge Hammer, will be on The Official Sledge Hammer Forums on Sunday August 17th at 5PM Eastern Time (or 2PM Pacific Time) to answer your questions. He will be online for one hour.

As a bonus, Harrison's autograph will be given away to one lucky fan who comes online that day.
Please go to the forums for more details. You must sign up as a member there to enter.

Friday, Febuary 1, 2008
Alan Spencer has been hard at work in development of a new series. As he mentioned on the forums, "Cavemen" was chosen over his and Jim Abraham's "Sledge Squad" type show. But, it could still happen. Read more about it here.
Monday, January 28, 2008
Sledge Hammer! and Police Squad! make #1 in Ten Shows From the Eighties We'd Actually Like Ben Silverman to Revive. Alan Spencer comments on the forums about this with the following:
"The ironic thing about this number one choice is Jim Abrahams and I DID develop a "Sledge Squad!" style show for last season, but the network opted to make "Cavemen" instead of our pilot."

Friday, November 9, 2007
The following is taken from www.pastdeadline.com
As Alan Spencer Can Attest, Being Lucky is Often Better Than Being Smart. But Being Both Doesn't Hurt, Either.
Alan Spencer is old enough to have been around during the last writers strike in 1988, if barely. He was but a lad in his mid-20s, but he already had a canceled series under his belt: the uproarious ABC police spoof "Sledge Hammer!" that survived for a mere two seasons from 1986-88. What makes the show memorable from the perspective of the present WGA walkout, however, is the fact Spencer had two words written into his "Sledge Hammer!" contract (he was creator and showrunner as well as chief writer) that proved particularly fortunate: "disc format."
"I insisted that it be put into my contract that I have profit participation and full creative control in any disc format versions of the show," Spencer recalls. "The reason I did that was I was really into laserdisc at the time. And of course, laserdisc was nothing back then. All the studios cared about was videocassettes. They probably thought, 'Laserdisc, sure, who cares, give it to him, what an idiot'."
Cut to 2004. "Sledge Hammer!" is about to come out on DVD -- which just happens to be a "disc format." The two seasons of the show that were released in separate volumes wound up being a major DVD hit that sold in the six figures in terms of units. And there was Alan Spencer, earning a very healthy chunk of change, rather than the standard zero, due solely to a couple of magic words.
"I'd like to say that I foresaw the future, but the truth is I just totally lucked out. It turns out that a disc is a disc," says Spencer, who was made his living the past several years primarily as a script doctor (including helping rewrite a few $100 million-plus Hollywood blockbusters) and who was busily punching up three movies simultaneously around-the-clock to beat the expiration of the WGA contract on Oct. 31. "Thank God I didn't have them put 'square format' or a specific number of inches. That taught me never to have any inch provisions written into my contract. If it had said 'eight-inch disc format,' I'd have been screwed."
Spencer, who hopes once the strike ends to turn in his first graphic novel as a pilot for a possible series, stands with the writers and has walked the picket line this week in support. He was also planning to attend this morning's mass rally at Fox Plaza in Century City that's expected to attract more than 3,000 WGA members.
"I've never seen anything like I'm seeing now where the showrunner of a hot new series like 'Pushing Daisies' in its first season -- namely Bryan Fuller -- would be walking the line," he says. "Here is a guy with so much at stake just being totally selfless. It's unbelievably heroic and brave to jeopardize his momentum. Same with Seth MacFarlane not doing SAG voice work on 'Family Guy' out of solidarity with the writers. To go up against corporations who hold all of the cards and are unforgiving takes a lot of balls.
"We're really at an historic kind of moment. I understand both sides in this dispute, and the bottom line is they've got to make peace at some point and get back to work. But I get where the writers are coming from. It's all about new media, whose importance can't be foreseen. We can't foresee the mass application of memory chips implanted in the brain that allow you to watch content when you blink. But they'd better get it in the contract now."
Monday, October 15, 2007

New web site unleashed with lots of gunfire and fanfare. Celebrate by buying some stuff from The Official Sledge Hammer Online Store. How's that for a shameless slug, I mean plug?

Also, check out this interview Contact Music (A British publication) did with Alan Spencer.
Tuesday, October 9, 2007

Stay tuned for more regular updates to the site. The Official Sledge Hammer Online Store is open for business with all your favorite Sledge gear. Not all of it is bullet proof. But, we don't live in a perfect world.

Wednesday, April 28, 2004

The service hosting the previous message boards was discontinued. Thankfully a very nice fan, Mark Rathke, took it upon himself to archive the thousand or so odd (and I do mean odd) posts and has set up new boards for everyone to begin all over again from scratch.

Mark is also a talented musician, as archiving message boards would be a ridiculous occupation, who has his own band called "Baboon Rising." Mark's version of the "Sledge Hammer!" theme will be heard on our forthcoming DVD menus.

Isn't it silly that they call them menus? I wonder if there's such a thing as a "Low Carb DVD Menu?"

Friday, April 15, 2004

Daily Variety wrote an almost front page story (it wound up on page two) announcing the "Sledge Hammer!" DVD release, the cult of "Hammerheads" as well as the current feature film discussions. It included a photo of David Rasche and his beloved co-star... the gun! The article was written by Joe Adalian (a real nice guy) and is called "It's Hammer Time!"

Click here to see Variety article.

Thursday, December 4, 2003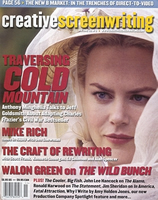 Alan Spencer is one of four high profile Hollywood scribes interviewed in the current issue of "Creative Screenwriting." Scott Frank, Kenneth Lonergan, Ed Solomon and our own Alan all discuss their experiences as "script doctors" in an article entitled "The Craft of Rewriting." This is probably the only time that Alan will ever be featured in a publication that features Nicole Kidman on the cover... as "Mad" and "Cracked" are more his caliber.


Monday September 15, 2003

Alan Spencer is one of the celebrity guests attending a dinner honoring "Get Smart!" in Los Angeles with the classic series' cast and crew. For ordering tickets or any additional information, please click on the banner below.



Wednesday July 2, 2003
Alan Spencer has become a popular attraction within the pages of "Razor"
magazine. In the current issue, the July / August edition on newsstands
now, he authors "My Sixth Sense Worth"... detailing his adventures as an
amateur telephone psychic. The prediction is: You'll laugh.

ALAN SPENCER - PHOTOGRAPHY BY AUDIE ENGLAND

Tuesday July 1, 2003
A wonderful fellow has started a website devoted to an event that will be
happening next year www.sledgefest2004.com. None of us are quite sure what
will take place at this little get together, but it seems fairly certain
that it will be VIOLENT!

Monday, April 28, 2003
There are updates to the show history, critical acclaim and image sections.
The bio is also now online. Enjoy! And if you can't enjoy, then I guess just
needlessly suffer.
Monday, January 20, 2003
Attention "Sledge Hammer!" fans. The show's creator, Alan Spencer, is a
frequent contributor to "Razor" magazine, the fastest growing men's
lifestyle publication in North America. (Despite it's "men's mag" status,
women like it too.)
In the tradition of "Playboy" and "Esquire," every issue of "Razor" features
bold editorial content as well as cutting edge humor. The classy photography
also tends to be easy on the eye. (Nudge nudge, wink wink -- know what I
mean?)
Alan wrote this month's cover story on newsstands now: "Role Reversal: How
The Tough Guys Became Girls & Vice Versa" chronicling the decline of macho
men on television. You'll also get to see a recent photo of Alan, where he
attempts to look "cool," or at least... like a Jewish "Reservoir Dog."
Follow this link to "Razor Magazine's" website, where you can not only read
excerpts from the February issue -- but also subscribe for a special low
rate. You'll be glad you did. (Oh, the editor is a major "Sledge Hammer!"
fan... so he's got extremely good taste!)
Friday, November 22, 2002
Alan Spencer, creator of the hysterical and eccentric cop show
"Sledgehammer!", will be at the Other Network live and in-person to
introduce "GALAXY BEAT", a hysterical and eccentric sci-fi comedy starring
Gregory Harrison and Tracy Scoggins. More info