(continued from page 3)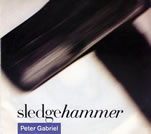 In a case of serendipity, Peter Gabriel's song "Sledgehammer" was released as the pilot completed production. ABC frequently used this hit single in TV and radio spots for the series.
"Sledge Hammer!" was one of the year's most critically acclaimed shows. That, along with a devoted following, helped it survive one of the deadliest timeslots in TV history… scheduled against NBC's "Miami Vice" as well as CBS's stalwart "Dallas".
Picked up for the remainder of the 1986/1987 season, the show was moved to Saturdays where "Sledge Hammer!" improved upon the series formerly occupying the timeslot, the ill fated "Life With Lucy" starring renowned comedienne Lucille Ball.
Despite widespread praise and a passionate fan base, "Sledge Hammer!" was apparently not destined for a second season. (After all, the old saying is… satire is what closes on Saturday nights.)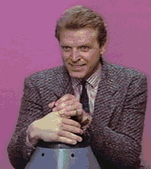 Taking a satirical, as well as fatalistic, approach to the situation… the series finale ended with an impossible to resolve cliffhanger in which Hammer, whilst attempting to disarm a nuclear warhead, obliterated his entire city.
For inexplicable reasons, the final episode showed significant improvement in the ratings.
To the surprise of many, including those who worked on the show, "Sledge Hammer!" was renewed for a second season… a rarity for offbeat comedies usually consigned to six episodes and out.
ABC, along with critics and a core of dedicated viewers, continued to love the show.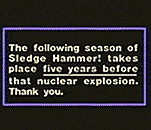 While many considered the resolution of the first season cliffhanger to be the ultimate "cop out", it was in fact consistent with the overall satirical nature of the series. *
* (It was also a backhanded allusion to an infamous "Dallas" season ender wherein Bobby Ewing, supposedly dead, reappeared in a shower… with the subsequent explanation that the previous season without him had all been a dream. Yeah, right.)
Nevertheless, "Sledge Hammer!" was once again awarded one of the worst timeslots in TV history… scheduled against NBC's gargantuan hit of the decade "The Cosby Show".
Lamented Alan Spencer in the Los Angeles Times: "If the other networks decide to broadcast the face of God, I know where ABC will put 'Sledge Hammer'."
During the second season, at the behest of the network, significant character development between Hammer and Doreau emerged. This culminated in a second season finale that would mark the end of "Sledge Hammer!"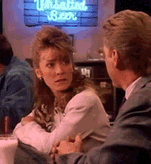 To this day, fans of the series still speculate what transpired after Sledge Hammer professed his profound loneliness to Dori Doreau… uneasily asking her to marry him.

Never again on television has there been a romantic triangle between a man, a woman… and a .44 Magnum.

Continued >>>