Countless people email asking where they can order

on DVD.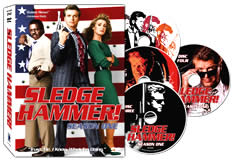 (click to enlarge)
Here are a couple of links from some well-known online stores. First up, Amazon:
The cool thing about Amazon is that customers have begun posting glowing reviews, despite the fact they haven't seen the discs yet.
The un-cool thing is the page claims the star of

is Linda McGill! (Hopefully this will be corrected soon.)
A company called DVD Empire has got the stars properly aligned… as well as named. They were the very first vendor to offer a pre-order.
By the way, there's apparently a porno star named "Sledge Hammer" so if you see any DVDs for sale that are rated X… then you've got the wrong show. While we love sex, we prefer VIOLENCE a whole lot more.
All right, with a nod to Ryan Seacrest: "Hammer… out!"